A range of cleaning products specifically designed with the professional hygiene and janitorial industry in mind. Delivering premium performance and value to make cleaning a breeze.
Our Products

We offer a wide range of professional grade cleaning products to suit your every need, whether it be commercial or domestic.

CLOTHS
Our range of non-woven cloths are designed to meet every cleaning need. In a variety of colours and sizes.

GUARDIAN RANGE
Products containing antibacterial properties. Cleaner, fresher cleaning tools.

SCOURERS
A wide variety range of fibre and foam backed scourers to remove those stubborn stains with ease.

MICROFIBRE
Will out perform any cleaning cloth and cleans surfaces without any chemicals.

MOPS
Manufactured to meet the CHSA mop standard, for consistency and quality.

METAL SCOURERS
Remove stubborn burnt on food stuffs, grease and more with relative ease.
Redefining Cleaning
Why Choose Optima?
Each product range includes a variety of weights, sizes and colours to choose from. Ideal when selecting the right product to achieve the best cleaning experience.
All products set the benchmark for quality, performance as well as value, From our ergonomic hand sponge grip scourers to lightweight machine washable cloths.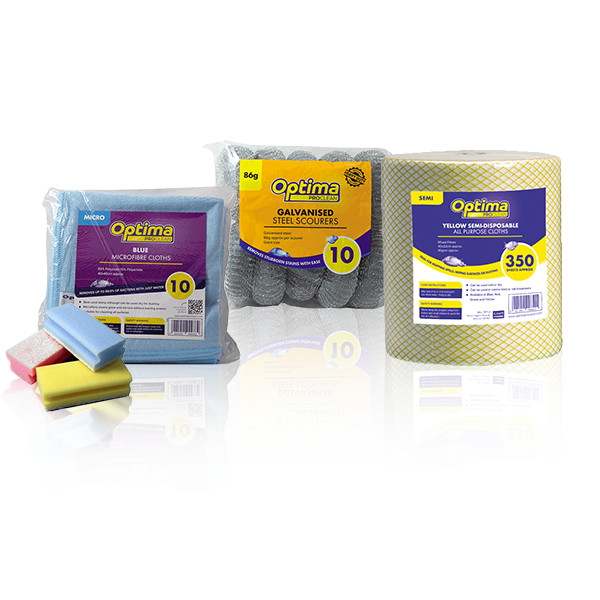 Product characteristics
Each product has a set of attributes which makes them ideal for cleaning certain areas. We have provided a guide to show some of the qualities our products possess.
Abrasive

Abrasive

Abrasive materials remove stubborn marks such as burnt on foods. Qualities found in our Traditional flat scourers, Sponge scourers and Metal scourers.
Absorbent

Absorbent

Materials that soak up and retain liquids easily can be found in a variety of our products from Sponge scourers and Microfibre to Non-woven and Sponge cloths.
Durable

Durable

Able to withstand wear, pressure or damage, Allowing products to last longer. Such a quality can be found in our hygiene mops.
Ergonomic

Ergonomic

We have chosen innovative products with our users in mind to help in to help cleaning more efficient.
Heavy duty

Heavy duty

Tough cleaning tasks require products designed to withstand intense cleaning. Qualities can be found in Metal scourers, Oven cloths and some Flat scourers.
Lightweight

Lightweight

Lightweight materials come in handy when in transit. Some All purpose cloths in our range possess this quality and are ideal for using on trolleys.
Machine washable

Machine washable

Some cloths can be laundered to refresh making them more cost efficient and last longer.
Quality

Quality

As BRC certificated members, customers can be assured that our products meet all consumer expectations surrounding quality, safety and operational criteria.
Removes bacteria

Removes bacteria

Products such as microfibre remove bacteria from surfaces with just water!